Relaxation comes from beautiful surroundings
Why choose frameless tempered glass?
​
Frameless glass is elegant and gives a spacious feel to your washroom.

Frameless glass shower entrances are versatile in their ability to be designed into almost any conceivable shape and size.

A 3/8" tempered glass has the minimum thickness required for a structural rating so that it needs no supporting frame, and yet it is light in appearance.

Tempered glass is used in shower entrances for safety reasons, as it never breaks into sharp, dangerous shards, unlike non-tempered glass.

You have the option to choose a 1/2" thick tempered glass for a richer look and greater strength.

A common experience among framed shower enclosure users is leaking, which needs regular replacement. Also, when a framed shower enclosure is demolished, mold is almost always present in the tracking. The ideal solution is replacing a framed entrance with a 10mm frameless entrance for greater hygiene and better health.
Semi-Frameless Sliding Doors
Rolling & Sliding Bathtub Doors
Neo-Frameless Sliding Doors
Frameless Shower Screen Door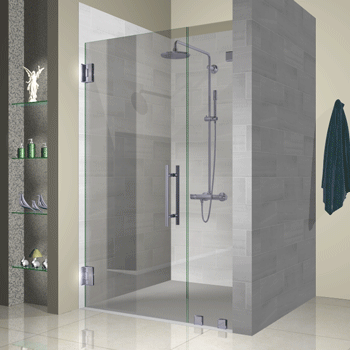 Bathtub Screens & Swinging Doors
After-Installation Care
Please do not use your new shower door for 24 hours after installation. The door must remain in the position left by the installation crew during this time.

All silicone areas will continue to cure and cannot be touched during the first 12 hours. If there are any taped areas, do not remove them for 48 hours.

You will also need to keep all showerhead(s) and/or body jets directed away from the door as much as possible. Any water directly aimed toward the door gaps will cause a leak within that area.

When closing your shower door, place the door in the closed position and do not release the door until it makes contact with the vinyl doorstop ("Slamming" will occur if the door is improperly shut).
Cleaning Instructions
To properly care for your glass, squeegee dry after each use.

To keep your glass looking new, clean each week using a damp microfiber cloth and a mild detergent to remove any soap scum, dirt, or grime.

Acceptable products include:- Windex - Kaboom Shower, Tub & Tile Cleaner - 50/50 Water & Vinegar Mixture - Clorox Green Works Glass Cleaner - Sprayway Ammonia Free Glass Cleaner - and Mr. Clean Magic Eraser when for dampness.
What Constitutes Improper Cleaning?
Never use any rough, gritty, abrasive, highly acidic, or highly basic cleaners, as they will damage the glass. Examples include:- Comet (powder), Ajax, cerium oxide, muriatic acid, or lye.